***WARNING: Flagrant pregnancy-centered post ahead. Avoid if needed.***
There are a few things that I just don't think I could get through this pregnancy without, and I wanted to share them here in case it might be helpful for others. So here is my list of Pregnancy Must-Haves. I honestly don't know what I'd do without this stuff.
MAXI MATERNITY DRESSES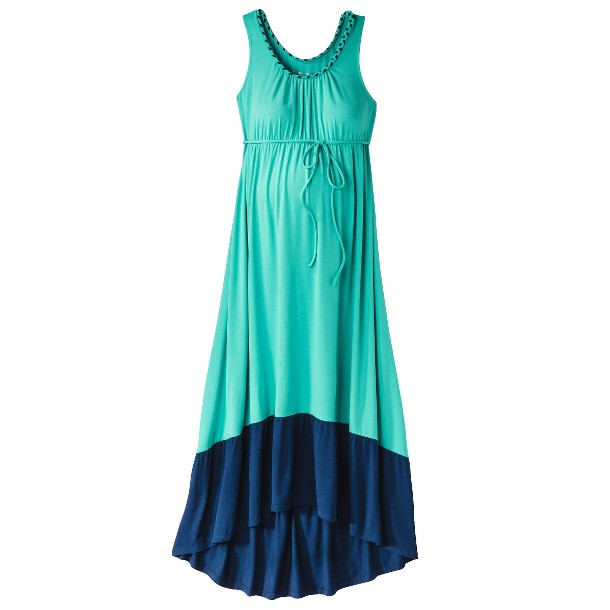 I bought WAY too much maternity clothing the first time so one could argue that I didn't actually NEED anything new this for this pregnancy. Except that I hated all the pants and kind of couldn't stand wearing them, plus I was lusting after maxi dresses right when I got pregnant so I started buying a couple, here and there and pretty soon my maxi dress obsession morphed into a full on addiction. I told myself it was okay to buy so many because I can wear them after the baby is born (they aren't cut specifically for a big belly, they are just so long they fall over it gracefully) and maybe even forever!
Jjiraffe told me that Target was the place to go for Maxi maternity dresses and man was she right. The Liz Lange Maternity line is especially amazing. Motherhood maternity also has some good maxis; I even got one at Old Navy.
The above is my favorite maxi dress (Liz Lange from Target), though I have so many that I love. I also love maxi skirts and even shorter dresses. I have never been a dress person before this but I've basically been living in them during this pregnancy.
PREGNANCY SPANX
Now I couldn't be living in these dresses if it weren't for my fabulous pregnancy spanx (okay, they aren't really spanx, they are actually called Secret Fit Shaper Panty). I found these at Motherhood Maternity when I was trolling for new underwear and I absolutely adore them. Earlier in my pregnancy they shaped my belly into a nice round bump when really it was a gelatinous blob of fat. Now they have the distinguished job of keeping my ever widening thighs from rubbing together, making all my dresses so much more comfortable. Luckily they were having a buy-one-get-one-free sale when I first found them, so I have two pair to keep me in all the fabulous dresses I bought (plus I wear them with underwear (not as underwear as they are marketed) which means I can wear them multiple times between washings).
GABRIELLA SUPPORT BAND (MEDIUM SUPPORT)
My hips started hurting really early in this pregnancy, especially when I was exercising or working in the yard. Also in the past month I started getting really intense Braxton Hicks contraction when I worked out and that is what prompted me to get a band. I actually already had a support band from my previous pregnancy but I couldn't find it anywhere (I know I've seen it around but right now it's disappeared) and I knew it was probably too big and bulky for working out anyway, so I looked into getting a new one. Luckily I found this smaller, more flexible and versatile band on Amazon, and a few of the reviews said it was recommended for runners so I thought it would probably help me on the elliptical and my walks. It absolutely got rid of the Braxton Hicks contractions I was getting working out, and even helped my hips from aching after long walks or working in the yard! It was definitely worth the $30, even if I do look kind of ridiculous in it.
SLEEP BRA
So, my tatas have gotten so big that they hurt when I sleep. They are literally so heavy that hanging prostrate while I side-sleep causes the muscles to feel painful and strained. Yeah. That is happening.
The idea of wearing a bra to sleep made me want to cry, but as my breasts hurt more and more, it was clear there wasn't an alternative. I did a lot of searching for a bra that a) offered enough support to be worth wearing at night (ie NONE of the one layered nursing bras out there) and b) was comfortable enough so that I'd actually wear it. After much searching at various department stores, I finally found the Barely There Women's Custom Flex Fit Reversible Comfort Bra on Amazon. It is by no means perfect but it has two layers of fabric so it offers much more support than anything else I tried on, it's a pull over (no clasp on the back or front) and made of super soft material so it's comfortable and it keeps my boobs from hurting. I wish it ran a size bigger (yes, I'm wishing it came in an XXL) because I doubt it'll contain the tatas for the entirety of this pregnancy but right now it's doing a pretty good job. Oh, and at $14 I thought it was very affordable.
CHELATED MAGNESIUM (WITH CALCIUM)
I don't know what I'm more thankful for, the fact that my Chelated Magnesium keeps my nightly leg cramps at bay or the fact that it has basically cured me of constipation during this pregnancy–even now that I'm taking a daily iron supplement to help with my anemia! It's been so nice not waking up to awful leg and foot cramps, but it's even nicer to breeze through my daily constitutional. I really do love this stuff.
FLAVOR CHEWS ANTACIDS
 My pregnancy heartburn isn't all that bad, but it's pretty consistent. I'm lucky that TUMS keeps it in check pretty well. The problem is that I LOATHE the chalky taste and consistency of TUMS. I was trying to endure the heartburn because I hated chewing the awful chalky tablets. Then a friend recommended the chewy antacids. A quick trip to CVS and I was one happy girl. These things taste like candy and now I take them throughout the day, keeping my heartburn at bay. It's amazing how much more palatable I find these babies–seriously, they are a bazillion times better than regular TUMS and just as good at combatting heartburn.
EVERY PUBLIC BATHROOM EVERYWHERE (AND RANDOM SPOTS BEHIND TREES AND BUSHES)
Have I mentioned how many times a day I need to pee? I guess the second time around you carry lower and your muscles do a shittier job of keeping your uterus off your bladder so you have to pee all the time really early on and it just gets worse as the baby gets bigger. Two days ago I took a five mile walk and you want to know how many times I peed? FIVE. And only three of them were in bathrooms. One time I had to climb into a storm drain and the other time I had hike back into a no-trespassing-active-construction-site area because poison ivy grows all along the sides of the trail I like to walk. So yeah, the whole peeing every 20 minutes is really cramping my style, something fierce. Thank god for public restrooms (and random secluded spots in the wild).
So those are my seven must-haves for this second pregnancy. I really don't know what I'd do without them, they have made the whole experience much more productive and enjoyable.
What are some things you currently can't live without?